Since 2011 I have been researching the professional claims of several self-described "explorers" in order to write a story about how such explorers leverage the internet to create a commercially viable narrative about themselves.
Ripley Davenport is one of those explorers and a well documented fraud. He has been actively assisted and supported by his wife, Laura, in his fraudulent claims regarding his exploration exploits, his education, military service, professional career, etc. This is the conclusion I have come to based on copious evidence, all of which is available on request and which can be independently confirmed. Click here for a synopsis of Davenport's professional life, collected from public sources and voluntary interviews.
If you hire Mr. Davenport to speak to your group, you will hear about his fantasies, not his actual adventures. Mr. Davenport claims to be a victim of both cyberstalking and Multiple Sclerosis (MS). This reflects a pattern of garnering sympathy by claiming to be a victim.
In researching for an article about self-made explorers I have gathered background material regarding Ripley Davenport's career. If you would like access to that material click here.
I welcome input from anyone who has factual knowledge of Ripley Davenport's expeditions, military career, educational career and other business activities. Ripley Davenport's current website is at ripleydavenport.com where you can compare what the Davenports claim he has done with what he PREVIOUSLY claimed he had done (detailed in these pages). The Davenports have never publicly acknowledged their fake stories instead claiming they are victims of cyberstalking.
My thanks to those who have contacted me so far, filling in many of the blank spaces in the story from high school days to current date. If you have, or seek, information about Ripley Davenport, please contact me at: rett139@yahoo.com.
Kent Madin
Here you can read the article about Ripley Davenport in Denmark's Politiken newspaper.
If you are here having heard of Ripley Davenport having MS (Multiple Sclerosis) this may be interesting: http://ripleydavenport.net/Ripley%20MS.htm
Looking at Ripley Davenport as a speaker for your club or organization? Click here.
Laura Davenport filed a copyright infringement claim with Youtube in March of 2015. After working through their own procedures in such cases, Youtube has now reinstated the video. http://www.youtube.com/watch?v=x-VcAhBjFOU.
If you are at this site because you have been told that the Davenport's are victims of "cyberstalking", rest assured that is a baseless canard.
Here's the short version of how the "cyberstalking" allegation came about: In 2009 the Davenports created a website describing Ripley, falsely, as a "renowned explorer" and actively promoted that sham in order to fool sponsors, gear manufacturers, charities, the media and private individuals into giving them money and other forms of support. A good example of that blatant slight of hand is here: https://www.youtube.com/watch?v=6l3XDpKy4R8. Read the synopsis of the Davenports' story here for more examples.
When confronted with basic questions about their various professional claims, they chose not to answer and to declare themselves victims of a "cyberstalker".
My personal conclusion is that Ripley Davenport and his wife Laura have actively conspired since 2008 to build a fraudulent history of Ripley's "expeditions" in order to deceive sponsors, gear manufacturers, clients and the general public. There is ample evidence which I am happy to provide on request. Read through the material at this site and make your own decision.
Ripley Davenport and his wife Laura cooperated with Earl de Blonville, Cuchullaine O'Reilly and Basha O'Reilly to create this website: Kentmadincyberstalker.com.. The site has been suspended by hosting company but you can see an archived version here. Additional information on de Blonville and the O'Reillys is here and here. Proof of Earl de Blonville's ownership of the site is here.
Laura Davenport's blog and my response are here. Feel free to contact me if you have any questions.
Laura Davenport filed a criminal complaint with the Bozeman Police last year claiming I was a cyberstalker. The police interviewed me and found no merit to the claim. This year, Basha O'Reilly and her husband Cuchullaine submitted another longer and more bizarre claim to the Bozeman Police. Again, no merit to the claim. The Davenports claim that the Irish Police, Garda, are investigating me which is false. Feel free to call the Garda in Kenmare and ask them if they are conducting such an investigation at this number. Here's the website: http://www.garda.ie/stations/default.aspx
Here's the Montana Statute regarding: False reports to law enforcement authorities -
(1) A person commits an offense under this section if the person knowingly:
(a) gives false information to any law enforcement officer with the purpose to implicate another;
(b) reports to law enforcement authorities an offense or other incident within their concern knowing that it did not occur; or
(c) pretends to furnish law enforcement authorities with information relating to an offense or incident when the person knows that the person has no information relating to the offense or incident.
(2) A person convicted under this section shall be fined not to exceed $500 or be imprisoned in the county jail for any term not to exceed 6 months, or both.
If you are with Google and reviewing this website relative to a "right to be forgotten" request please note that the material here is fact-based and has not been factually repudiated by the Davenports. Removing this material from EU Google searches will obscure from EU citizens information that could be important to future financial and social decision making. Censoring this material will not serve the public interest. The Davenports have many legal remedies at their disposal to address concerns raised by this website.
Kent Madin rett139@yahoo.com.
re
Ripley Davenport: Walter Mitty or Penny Ante Fraud?
Anyone thinking of supporting Ripley Davenport's exploits would be well served to read the Politiken article below before investing time or money. In spite of trumpeting his prowess as a "renowned desert explorer" Ripley has never substantiated any of the "desert explorations" he claims to have made prior to 2010. He has erased all records of his Mongolia walks in 2010 and 2011 from the web. He did, however, steal images from private pages on the internet and represent them as his own "copyrighted" material on Flickr in an attempt to prove his claims and fool the public.
The Danish Newspaper Politiken article "When Ripley Got Lost" on Kenmare, Ireland resident Ripley Davenport (birth name Colin Dormer) is out as of Sunday, August 19, 2013. Click on the image of the article for the English translation. Please note this article is copyrighted by the authors and Politiken, contact the authors for permission to post or reprint.
Federal 9th Circuit upholds First Amendment rights of bloggers.
Ripley Davenport's claims of being "cyberstalked"
American Diplomat Accused of Cyberstalking : A remarkable melange of fact, irrelevant fact and disingenuous fantasy which still begs the question of why these indignant, famous, accomplished explorers don't just answer the basic questions being asked about their professional claims? And, surprisingly similar in contect, style and "evidence" to this anonymous website which just appeared: kentmadincyberstalker.com
Affidavits Calling for the Arrest of Kent Madin Which accompanied the document just above.
Above the Fold in Lithuania. Laura Davenport sent the Cyberstalking document mentioned above to a Lithuanian newspaper which published this article by Gediminus Gasiulis. In response to my inquiry, Mr. Gasiulis has been prompt and professional with clarification of how the article evolved. The Chrome browser does an entertaining job of translating the article and the 60+ comments it evoked. #42 is a special favorite.
UPDATE: Dec 2013: Ripley Davenport has re-invented himself as an open water swimmer with plans to circum-swimigate 850 miles of the coast of Ireland in July of 2014. This, in spite of having no previous open water swimming experience. This is consistent with Ripley's imaginary 1998 Namib Desert crossing which he also undertook with no prior desert travel or camel handling experience. The Round Ireland Swim is to raise money for MS Ireland and prove that someone with MS can do anything. Ripley has a documented history of fabrication, embellishment, deception and theft (of images) to make himself appear to be a famous "desert explorer" and attract sponsorship, donations and free gear. Given Ripley's track record, this latest swimming adventure calls for scrutiny by all parties involved. Does it matter whether Ripley actually has MS? That's for MS Ireland, the charity being supported, and MS sufferers world wide to decide.
1992-1997: Where was Ripley? Until 2012, Ripley widely claimed that he had spent 7 years in the Special Forces (examples here, here and here). Now his website makes no mention of military service. Shipmates confirm he spent two years in the Royal Navy (90-92) and other sources confirm that he spent a few months as a new recruit in the RAF Regiment in late 1997. Ripley's own Facebook images show him in both Navy and RAF Regiment. Between 1992 and 1996 Ripley married (Sept. 1992) and divorced but there is no evidence he was in the military during that time. Ripley himself alludes to having spent time in jail in at least one published interview which would preclude spending 7 years in the military. Anyone with information about those years is encouraged to contact me.
"But what happens when a person deliberately lies about their experience and qualifications to secure a responsible and paid job? A job where lives and investment are likely to be put at very real risk?" Earl de Blonville,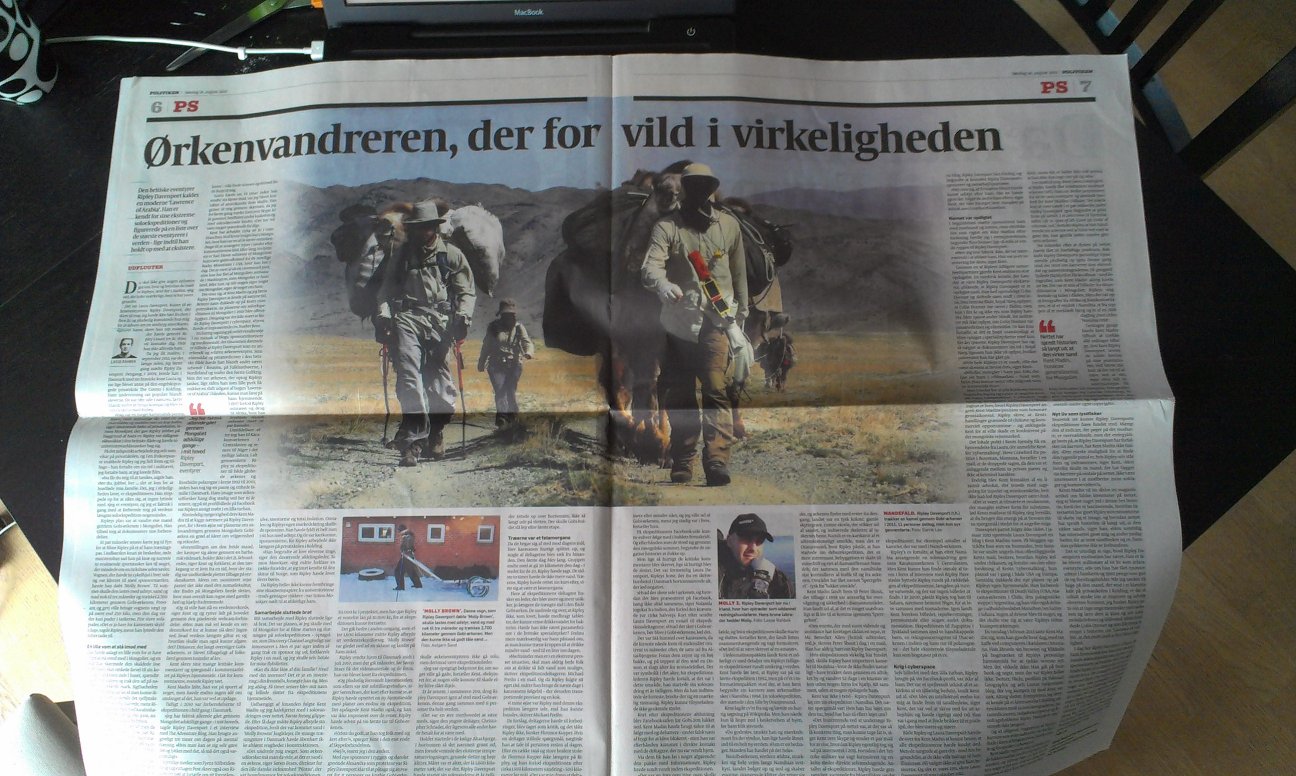 I am interested writing an article/book about faux explorers. I welcome input from anyone who has factual knowledge of Ripley Davenport's expeditions, military career, educational career and other activities.
My thanks to those who have contacted me so far, filling in many of the blank spaces in the story from high school days to current date. If you have, or seek, information about Ripley Davenport, please contact me at: rett139@yahoo.com
Kent Madin
Update: Earl de Blonville is the focus of a second article being researched currently. Just weeks before this article was published at Politiken, Earl's LinkedIn endorsement of Ripley Davenport brought Earl to our attention. Earl's endorsement was published May 24 of 2013 in spite of considerable doubt having been raised, by that time, of Ripley's veracity.
I can find no evidence that Earl de Blonville has ever met Ripley Davenport. When asked upon what actual experience this LinkedIn endorsement was based, Earl took umbrage at the suggestion that his endorsement was fantasy-based bloviating and declined to answer. Earl's response, in dismissing my inquiry, demonstrated his special relationship with irony: "As far as I can see, you have basically breached all the rules and etiquette of LinkedIn, and I think they should be apprised how you're misusing what is supposed to be a forum of trust." And if that weren't ironic enough, Earl makes numerous "I was there first" claims on his own CV.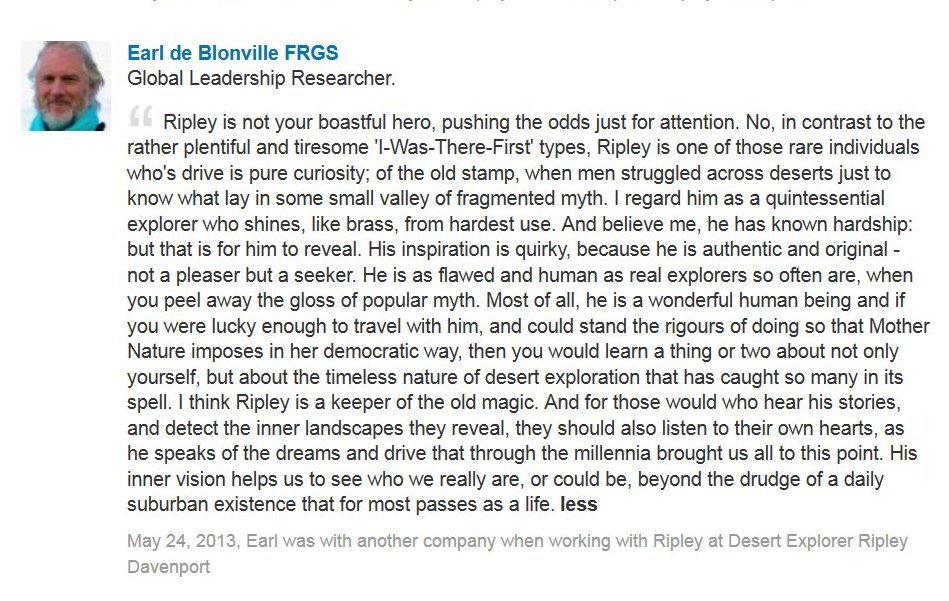 UK Fraud definitions: http://www.legislation.gov.uk/ukpga/2006/35/crossheading/fraud
Privacy Statement: "Being that this is a public document available to anyone, literally, with a computing device, I have no particular expectation of privacy nor do I expect or desire to constrain others if they wished to reuse parts of this website. If you have modified, copied, reproduced, republished, uploaded, posted, transmitted or distributed in any way, congratulations! The only constraint I would request is that you not quote out of context and if your intention is to belittle me or poke fun, please do it with wit and taste. Otherwise, I am happy to stand by what I have said here. I strive to remain factual and am happy to discuss any concerns with the veracity of what I publish here. Rest assured I'm happy to retract and apologize should I present something that is untrue. I am happy to let the reader draw their own inferences from the facts."
Earl de blonville ripley davenport earl de blonville postformal leadership de blonville postformal leadership